2004 Illiana Watermelon Queen – 2005 National Miss Jubilee
Megan Scott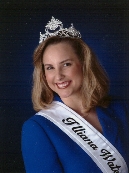 Megan is the 23 year-old daughter of Jerry and Francie Scott of Lawrenceville, Illinois.  Miss Scott is a graduate of Southern Illinois University, attends Indiana State University where she received her bachelor's degree in Family and Consumer Science and is working towards her master's degree.  She plans to become a teacher on the secondary level in Family and Consumer Science Education.
Megan has received several awards: Golden Key Club- Gamma Beta Phi, Treasure of Fashion Merchandising Design Club, Participated in the Miss Lawrence County Fair Queen Pageant, Miss Mardi Gras, Miss Festival, and was a model for the Illinois University Fashion Show. Her hobbies include photography, developing black & white photos, softball, working out, reading, watching movies, volunteering with children, and bungee jumping.
Megan believed she would be the best public relation's ambassador for the Illiana Watermelon Association. She stated, "When I become involved in something I feel passionate about, I give it my full dedication. I am energetic, sincere and love to talk to people." Megan was awarded the title/job of 2004 Illiana Watermelon Queen the weekend of March 12-13, 2004 at the Vincennes Quality Inn. She competed against 8 other area ladies from Indiana and Illinois in the categories of personal interview, taped interview, sportswear, 2-minute speech, impromptu question and evening gown.
The 2004 Illiana Watermelon Queen will travel extensively throughout Indiana and Illinois and across the United States promoting the watermelon industry. She will make appearances at a variety of events such as fairs, state fairs, festivals, parades, food/trade shows, training workshops, soccer tournament, grocery stores, schools, nursing homes, day cares, organizations. Other appearances coming up are trips to Washington DC, Ocean City, Maryland, and compete for the title of 2005 National Watermelon Queen in Orlando, Florida. Megan is a paid employee of the Illiana Watermelon Association and will work for our organization for 1 year.
The Illiana Watermelon Association is grateful to Megan and proud to present her to the public and the watermelon industry as our 2004 Watermelon Queen and ambassador. She will be available for visitations and tours.