2021 Illiana Watermelon Queen Grace Rainey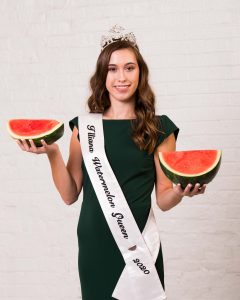 Each year we hold our Illiana Watermelon Queen Contest at our annual Watermelon Convention.  The winner of this year's 31st Annual Illiana Queen Pageant is Miss Grace Rainey.  Grace is from Evansville, Indiana and is studying Biology with a minor in Business Administration at the University of Southern Indiana. After receiving training in Atlanta, Georgia with the National Watermelon Promotion Board, she will be busy attending the various promotions throughout the country.

We would love to visit your special occasion or promotion.  To book a promotion, call Lana Brothers, our promotions coordinator at 314-724-6305 or email her here.
Sample Tour

NWPB Queen Training

Day on the Farm

South Knox Elementary

Franklin Elementary

Little Shepherd Daycare

YMCA

Lena Dunn Elementary

Washington DC

Farmer's Market

Marsh Grand Opening

Old Oaken Days Parade

Linton 4th of July Parade

Vincennes 4th of July Parade

Marsh Food Show

Knox County Queen Pageant

Grower's Coop Booth at Fair

Wine Taste at Indiana State Fair

Owensville Watermelon Festival

WFML/Blazer Radio Station

Kiwanis Club

Knox County Watermelon Festival

Indiana State Fair

Brownstown Watermelon Festival Parade

Blue Jeans Festival Parade

Techumseh Harrison Elementary

PMA

Vincennes Christmas Parade

WFML Radio

WFML Radio

Georgia Watermelon Association Convention

Indy Style

Channel 10 News

Fox 7 News

Kroger

National Watermelon Convention

Channel 2 News

Queen Contestant Workshop

Ag Day

Marine Corp Marathon – Washington D.C.

Illiana Watermelon Convention
   IWA Queen Program

Each year we select a new IWA Watermelon Queen at our Annual Watermelon Convention from a slate of candidates from across our district.  She will become a Promotional Ambassador for our association for the upcoming year.  She will make appearances at Welcome Centers, County and State Fairs, Supermarkets, Parades, Festivals, Schools, TV Interviews, and many other functions as scheduled to promote the watermelon industry.  Upon completion of her tour as the Illiana Watermelon Queen, she will represent our chapter in competition for the title of National Watermelon Queen at the following year's National Convention.

The 2022 Queen will Receive:
$3,500 Scholarship – Sponsored by International Paper
$1,500 Wardrobe Allowance
Paid Promotional Appearances

Expenses Covered for NWA Convention  Feb '23
Luggage Set along with various gifts from Association members

The First Runner-Up will Receive:
$1,500 Scholarship

The Second Runner-Up will Receive:
$1,000 Scholarship

Miss Jubilee will Receive:

$500 Scholarship

This is a job interview and not a beauty contest, although how a candidate presents herself is an important part of representing our association.  If you think you or someone you know is interested in participating in our queen contest, please email Lana Brothers at iwapromocoordinator@gmail.com.