2001 Illiana Watermelon Queen
Nicole Hageman – Fish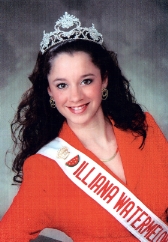 Nicole is the 18 year-old daughter of Bill and Tammy Hageman of Vincennes, Indiana.  She  has two brothers, Jeff and Tyler and a sister Marina.  Her best friend is Peppy a miniature black poodle. She attends South Knox High School where she is a senior.  Nicole will graduate June 1, 2001 and plans to attend Vincennes University in the fall, majoring in Computer Graphic/Design.  She works in Vincennes at Jo-Ann Fabrics as a Sales Clerk.  
Nicole has received honors in the 4-H Dog Club, Gardening, Child Development, Crafts, Citizenship Award for the Dog Club. She is on the honor role at South Knox High School, Who's Who Among American Students, Perfect Attendance, 3rd runner-up in the Knox County Fair Queen Contest. Miss Hageman enjoys collecting rhinestones, painting, drawing, and any type of art activity. Her favorite pastimes include spending time with friends and family – and sometimes, just by herself, quietly listening to music. Nicole likes swimming, walking and talking on the phone.
Nicole stated she would be the best public relations representative for our association, because she is a good role model and works hard at everything she is asked to do. She is enthusiastic and shows others how much fun and excitement can be found in the watermelon industry.