"Our growers just plain know how to grow watermelon".
Maybe, it's because of our rich sandy soil.  It could be our mild summer climate.  Possibly, it is because our harvest comes during the longest days of the summer (Ole Sol kisses our melons longer than any other temperate zone).
Or yet, another local legend is —
The truth is, we believe all of these contribute to making our watermelon, the most mouthwatering and sweetest watermelon in the world.
We invite you to browse our web pages and discover the tender loving care we put into each watermelon we grow and just how much fun we have promoting our delicious juicy fruit.
 2017 Illiana Watermelon Association Convention Information
Former Watermelon Queen Writes a Young Adult Fiction Book
A Story of Love and God's Grace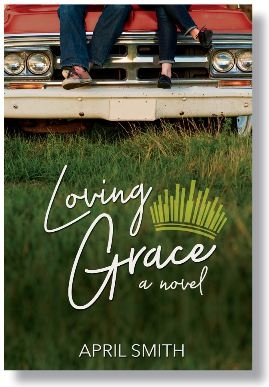 As the newly-crowned watermelon queen, Grace Summer is thrust into the spotlight while dealing with a new life and an old past that still haunts her.
Grace finds herself in a melon load of trouble when she becomes torn between the boy of her dreams and the boy next door. With her work on the watermelon farm, her crown responsibilities, her painful past, and her new love, Grace doesn't think she can handle everything life has thrown at her. Her loving gramps shows her that God will give her the strength she needs if she will trust in Him. In her new book, Loving Grace (Ambassador International, April 20, 2018, $15.99), April Smith writes a fictional story about young love and God's grace. Smith spent her summers working on her best friend's watermelon farm, and had the opportunity to work for the industry as one of their watermelon queens. Smith says, "I knew I wanted Grace's story to take place in the watermelon world. I also wanted the reader to learn something. In this case, the main takeaway is that true happiness comes from resting in the grace of God. Things of this world may make us happy for a time, but they tarnish when compared to what God has to offer."
About the Author: Smith was crowned Illiana Watermelon Queen in 2002 and has since held those memories from her tour as queen as some of the sweetest to look back on. Smith lives in Evansville, IN and when she is not writing or teaching, she enjoys reading, sewing, quilting, and spending time with her family. To connect with the author or request a review copy of
Loving Grace, please contact publicist Keli Garrett at media@emeraldhouse.com.